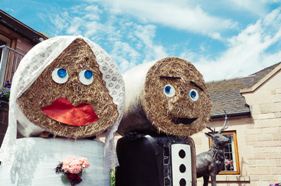 CHESHIRE ACOUSTIC DUO LELOUNGE!
One of the best Acoustic Duos Cheshire has to offer
LeLounge know how to make any event special be it a Cheshire Wedding Breakfast, Cheshire Birthday Party, Cheshire Wedding Drinks Reception, a Festival or Conference in Cheshire. Formed in 2010, the members of Cheshire based acoustic duo LeLounge! have a back catalogue of hundreds of delighted clients for whom they have provided live music for wedding breakfasts, cocktail drinks receptions and bars and restaurants in Cheshire.
Click Here to go straight to the Cheshire Acoustic Duo LeLounge! Home Page
ONE OF THE MOST EXPERIENCED ACOUSTIC DUOS FOR WEDDING BREAKFASTs, WEDDING RECEPTIONS OR OTHER EVENTS IN CHESHIRE
LeLounge! Acoustic Duo have played hundreds of functions, weddings, wedding breakfasts, drinks receptions, birthdays and corporate events in Cheshire and the North West s ince forming in 2010. At Cheshire venues outdoor and in, their experience ranges from restaurants clubs, churches, bars and hotels to major music venues including Shrigley Hall, Tatton Park, Carden Park, Inglewood Manor, Alexanders Chester, Tatton Park, Pinewood, Hallmark , The Residence and many more. An excellent acoustic duo or party duo for Cheshire Wedding Breakfasts, Cocktail Drinks Receptions or any event requiring acoustic music.
The duo also offer add-ons such as:
Look here at Acoustic Duo LeLounge's Song List to see if it would suit your Cheshire event or Wedding.
LELOUNGE! CHESHIRE DUO - LIVE ACOUSTIC MUSIC
LeLounge! Acoustic Duo perform their own lovingly crafted arrangements of popular songs.
For your Cheshire Wedding Breakfast, Drinks Reception or other event LeLounge! can provide:

Party Duo option for dancing and louder music. Sound of a full band from two people.
Suitable for Cheshire Wedding Venues where volume is restricted by sound limiters (acoustic instruments with minimal amplification)
Lights for duo and dancefloor areas if party duo is booked for a livelier dance party approach.
Easy listening and Classical music options for drinks receptions, welcome drinks, wedding breakfast or wedding ceremony phases.(classical guitar or singer options)
Dedicated microphone provided for guests to make speeches
LeLounge! have deputies who can stand in if an acoustic duo member is ill for your event or Wedding in Cheshire
Careful choice of songs to get everyone singing and tapping their feet or just to set a pleasant ambience as background music.
Solo Wedding Singer option. Repertoire of Hundreds of songs and requests can be taken.
A DJ service can be provided, with hits from the last five decades and guests' requests welcomed
The musicians in the acoustic duo have PLI Insurance and P.A.T. Tested equipment (certificate provided on request for your Cheshire Venue)
WEDDING VENUES IN CHESHIRE - LELOUNGE! ACOUSTIC DUO
Most Cheshire Wedding Venues will be able to accommodate LeLounge!. The standard acoustic duo can set up in an area of 2m x 2m or less and sophisticated and fun live music will provide a unique and memorable experience for your guests
As a starter, the list below suggests some potential venues for your Cheshire area wedding