LeLounge Acoustic Duo
Live Guitar & Vocals
Easy Listening, Jazz & Pop Hits
First Dance Performance
PA & Radio Mic For Speeches
DJ Service Option with Lights and Fog
Classical Guitar Option
Dance Party Option (Full Band Sound using Backing Tracks)
Acoustic Duo Latest
July 16th- Wahey Hayfield Festival!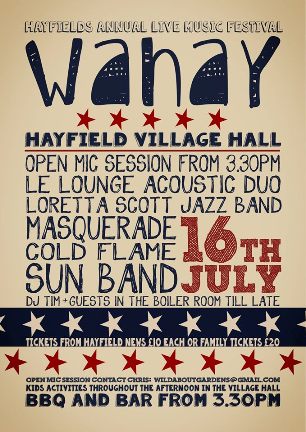 On Saturday July 16th the acoustic duo LeLounge! featuring Dave and Laura-Jayne Hunter, will be performing mid afternoon for an hour as part of Hayfield's annual live music festival Wahay. Tickets are just £10 for the whole day. Other acts include the Loretta Scott Jazz Band, Masquerade, Cold Flame, and the excellent Hayfield based function band: Sun Band, for whom Laura-Jayne Hunter was once lead singer! There's a bar and barbecue and kids activities throughout the afternoon.
May 2016 - A Year On
Well it's about a year since we started LeLounge! Acoustic Duo as a spin off from LeFunk! Party and Function Band. In that time we've secured regular repeat bookings at venues such as Cedar Tree Restaurant Rochdale, Oddfellows Mellor, John Millington Cheadle Hulme, Roundhouse Hayfield and others.
We're also getting a steady stream of bookings for private functions, often for the earlier phase of weddings before the main LeFunk! Party and Function band take over. In this time the repertoire has grown massively and we're adding something new almost every week.
We can now adapt the format on the fly to suit the crowd, able to switch to a full band sound for dancing at the end of the night using backing tracks to accompany live guitar and vocals, or softer classical guitar for a more chilled mood. With this flexibility we have a repertoire of around 400 songs to draw from!
If you're interested in booking us give Dave a call on 07754 781 578 or come to one of our public dates and have a chat with us about your event. You can also fill out the form on the LeFunk! Bookings page or contact us by email at wearelefunk@yahoo.co.uk
Who Are LeLounge Acoustic Duo?
Combining the excellent vocals and captivating stage presence of Laura Jayne Hunter with the meticulous and multi genre inspired guitar and backing vocals of Dave Carter, LeLounge Acoustic Duo is great entertainment and the perfect way to create a sophisticated atmosphere during the more relaxed phases of your event, be it a drinks reception, wedding, wedding breakfast, anniversary, birthday party or corporate event. See the LeFunk! press pack page for more detailed biographies.
How to Book - Acoustic Music for your Manchester Wedding, Birthday or Party
The best way to book LeLounge is to fill out the form on the LeFunk! Bookings page. Alternatively, contact Dave on 07754 781 578. You can also contact us by email at wearelefunk@yahoo.co.uk
Manchester Based Acoustic Duo
LeLounge is based in Manchester and is available for hire for any event in Cheshire, Derbyshire, Stockport, North Wales, Lancashire, Staffordshire or South Yorkshire. Perfect entertainment for Wedding Breakfasts, Anniversaries, Drinks Receptions, Restaurants and Bars requiring live acoustic music.
Party &amp Wedding DJ Service and PA Add On
If you want to dance to louder music later we can provide all the recorded music you'll need, a DJ service, disco, lighting and your own microphone for speeches and announcements. We'll build your ideal playlists in advance and bring thousands of hits to satisfy your guests' requests on the day.
Wedding First Dance or Special Requests
Let us know if you would like us to perform a song that isn't in LeLounge's current repertoire. This could be your first dance, or a special song for the occasion.
Public Liability and Emergency Cover
We have Public Liability Insurance of up to £10million
Our electrical equipment is PAT tested each year.
For peace of mind we have deputy musicians (both guitar and vocal) to cover for emergencies.
Planning, Clothing, Playing
As experienced professional wedding and function musicians we will always dress smartly when performing. Performance times can be adjusted to fit in with auctions, buffets, raffle results or speeches and arrival and set up times can usually be arranged to minimise disruption to guests. Set up time is normally twenty minutes, and we require an area of around 2m x 2m. When you book LeLounge we won't just turn up on the night and play - we'll work with you, from the moment you book us, to help realise your plans.
Repertoire - Acoustic Duo and/or Wedding Singer
LeLounge perform anything from Bossa and Jazz Standards to Classic Pop Hits from the 60s to the current day. Laura-Jayne Hunter as a solo wedding singer performs hundreds of songs, far too many to be listed here. The acoustic duo repertoire is always changing but the list below shows songs we were performing as at November 2017.
LeLounge Acoustic Duo Songs
All About That Bass

.

Meghan Trainor

Billie Jean

.

Michael Jackson

Blurred Lines

.

Robin Thicke

Blackbird

.

Beatles

Blue Moon

.

Marcels

Brown Eyed Girl

.

Van Morrison

Buttercup

.

The Foundations

Call Me Maybe

.

Carly Rae Jepson

Catch The Wind

.

Donovan

Can't Take My Eyes Off You

.

Franki Valli

Cheek to Cheek

.

Irving Berlin

Crazy Little Thing Called Love

.

Queen

Dancing Queen

.

Abba

Disco Inferno

.

Trammps

Don't Know Why

.

Norah Jones

Every Breath You Take

.

Police

Faith

.

George Michael

From Eden

.

Hozier

Fast Car

.

Tracy Chapman

Fly Me to The Moon

.

Bart Howard

Forget You

.

Ceelo Green

From Eden

.

Hozier

Happy

.

Pharrell Williams

How Deep is Your Love

.

Beegees

If I DIdn't Know Better

.

Civil Wars

I Feel Fine

.

Beatles

I Feel Good

.

James Brown

It Takes Two

.

Marvin Gaye

I Feel Fine

.

Beatles

I'll Be There

.

The Four Tops

I'll Be There For You

.

Rembrandts

Girl From Ipanema

.

Carlos Jobim

Light My Fire

.

Doors

Lady is a Tramp

.

Rodgers Hart

Love Yourself

.

Ed Sheeran/Bieber

Love Me Tender

.

Elvis

Mad World

.

Tears For Fears

Make You Feel My Love

.

Bob Dylan/Adele

Marry You

.

Bruno Mars

Moon River

.

Henry Mancini

Moon Dance

.

Van Morrison

More Than Words

.

Extreme

Moves Like Jagger

.

Maroon 5

Norwegian Wood

.

Beatles

Perfect

.

Fairground Attraction

Play That Funky Music

.

Wild Cherry

Parklife

.

Blur

Power of Love

.

Huey Lewis

Price Tag

.

Jessie J

Promise

.

Radiohead

Rather Be

.

Clean Bandit

Rehab

.

Amy Winehouse

Red Red Wine

.

UB40

Rescue Me

.

Fontella Bass

Riptide

.

Vance Joy

Sing It Back

.

Moloko

Somewhere Over The Rainbow

.

Eva Cassidy

Smile

.

Lily Allen

Space Oddity

.

David Bowie

Faith

.

George Michael

Somebody Else's Guy

.

Jocelyn Brown

Step On

.

Happy Mondays

Summer of 69

.

Bryan Adams

Sunshine of My Life

.

Stevie Wonder

Tainted Love

.

Soft Cell

Teenage Dirtbag

.

Wheatus

Thinkin' Out Loud

.

Ed Sheeran

Thinking of You

.

Sister Sledge

Thousand Years

.

Christina Perri

Twentieth Century Boy

.

Marc Bolan

Valerie

.

Amy Winehouse

Wonderwall

.

Oasis

Wonderful World

.

Louis Armstrong

Wicked Game

.

Chris Isaak

Yellow

.

Coldplay

Yesterday

.

Beatles

You Can't Hurry Love

.

Supremes