Hire LeFunk! and get ..
Live Classic Dance Hits
2, 3, 4 or 5 Piece Band
Acoustic and Classical Options
First Dance or Additional Song
PA & Mics For Speeches
Stage Lights and DJ Service
Low or High Volume Options
Line-Ups
Our range of line-ups means we can offer something for all budgets and play at venues ranging in size from a bar corner to large hotels and concert halls!
5 Piece Band (LeFunk!)
Lead Vocalist (Female)
Electric Bassist and Vocalist
Electric Guitarist/Backing Vocalist
Keyboards
Drums
4 Piece Band (LeFunk!)
Lead Vocalist (Female)
Electric Bassist and Vocalist
Electric Guitarist/Backing Vocalist
Drums
3 Piece Band (Mini-LeFunk!)
Lead Vocalist (Female)
Electric Bassist and Vocalist
Electric Guitarist/Backing Vocalist
(Drums and Keyboards backing track)
2 Piece Acoustic Duo (LeLounge!)
Latest News
New Years Eve 2017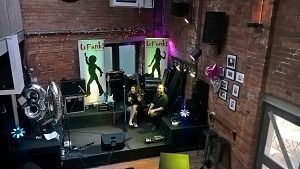 With the end of 2017 approaching we'd like to thank everyone who booked us for their weddings and birthdays over the Summer. We're proud to have been a part of the most important day of many people's lives. Thank you for the cards, gifts and flowers!
A popular booking choice this year was for a combination of the acoustic duo and one of the band formats (trio, quartet or five piece). The four piece band, a new format introduced last New Year's Eve, has also proved popular on its own since we started showcasing it at public gigs such as the Steamhouse.
This New Year's Eve we'll be playing as the trio lead by Jade at the Grosvenor Casino in Bury. Please contact the venue for details.
We've already taken many bookings for 2018 so please get in touch sooner rather than later if you need a quote.
All the best from Dave C, Paul, Laura H, Jade, Laura K, Dave B, Anna and Benn.
Who Are LeFunk! Party & Function Band?
A popular Manchester based function band formed in 2010 playing covers of classic pop, funk, soul, motown and disco hits. The band name is a nod to the classic hit 'Le Freak' by Chic. We provide unbeatable quality and value for money with a dancefloor driven repertoire honed through years of playing weddings, birthdays, festivals, corporate events and clubs. See our press pack page for band member biographies and our songs page for our repertoire. For prices, availability and enquiries please visit our bookings page.
Party &amp Wedding DJ Service and PA
In addition to the live band, we can provide all the recorded music you'll need, a DJ service, disco and stage lighting and your own microphone for speeches and announcements. We'll build your ideal playlists in advance, and also bring thousands of hits to satisfy your guests' requests on the day.
Wedding Band First Dance or Special Requests
If you would like us to perform a song that isn't in the band's current repertoire, this is almost always possible. This could be your first dance, or a special song for the occasion.
Public Liability and Emergency Cover
We have deputy musicians who rehearse with us and can usually cover for last minute emergencies.
We have Public Liability Insurance of up to £10million
Our electrical equipment is PAT tested each year.
Planning, Clothing, Playing
As a professional wedding and party band LeFunk! will adapt to the flow or character of your event. Set lengths can be adjusted to fit in with auctions, buffets, raffle results and speeches. Clothing can be funky or formal. Arrival and set up times can usually be arranged to minimise disruption to guests. When you book LeFunk! we don't just turn up on the night and play - we work with you, from the moment you book us, to help realise your plans.
Repertoire
The main band's repertoire is almost entirely comprised of classic dance hits.
We cover songs from the 60s right up to the present day, including plenty of 60s soul and 70s disco.
Other genres including Indie, American Songbook, Easy Listening, Country, Classical and Contemporary Pop can be performed by our band members as an optional extra.
For a more detailed guide to all our repertoire and live music services please see our songs page.
Volume? Too Loud? Sound Limiter?
LeFunk! play as loud as you decide.
Weddings and birthdays are social occasions. We think guests should be able to hear each other!
By switching to our electronic drum kit, even the full band can play at singing voice level . At venues with a sound limiter there is therefore no danger of us triggering a power cut.
Of course if you do want it loud, we can crank it up for a floor thumping nightclub experience either with Mini-LeFunk! or the full band!
LeFunk! Function Band &amp Wedding Band Videos
To the left is a video playlist demonstrating our various formats. Click on the playlist icon at the top left of the video window, select a specific video, and then click on the playlist icon again to clear the list of videos and watch your choice.
Alternatively just click on play all and then use the skip forward or back arrows to move between videos.
If your browser cannot display this video, you can watch all our videos on youtube by clicking here.
LeFunk! Function &amp Wedding Band Image Gallery
To see more photographs use the pop up navigation controls that appear when you hover over the image below.